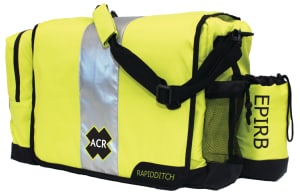 As boaters, it's our responsibility to do everything we can to remain safe on the water. However, no matter how much you prepare, unanticipated events can occur and it's important to be prepared for the worst – the need to abandon ship.
While the majority of boaters are usually within range of a quick rescue – especially if they have a properly operating 406 EPIRB or PLB on board – some boaters may be planning to travel to more remote areas where an abandon ship (ditch) bag will also be necessary. While no list can be considered complete, below we make some recommendations on items to include in your Abandon Ship Bag – from the most critical items, to the items that will make your wait for the rescuers more comfortable if you have the room (and time) to take them.
Must Haves
First off are the absolute MUST HAVE items for your Abandon Ship Bag – all the items that will make the biggest difference in ensuring your successful rescue. These items should be in an enclosed waterproof container or bag, clearly labeled and located as close as possible to your life raft or where you exit your boat. Every person on board should know where this bag is and how to grab it in an emergency. As the captain, you should also ensure that the bag is not too heavy for any crew member to lift under highly adverse sea conditions – even if that means splitting it out into several bags. Here's what your bag should contain:
Comfort Items
Okay – now that you've got the most important items in your Abandon Ship Bag – what other items should you bring? Following are items that are handy to have and will definitely make living in the raft more comfortable:
Optional Items
Finally, here are some suggested items that would be great to have along if you have the room for them:
We hope you've found this list helpful if you are planning a remote excursion. At Fisheries Supply we are proud to employ many experts that can help you prepare for your next big trip – so please don't hesitate to contact our experts with any questions at (800) 426-6930.
Our special thanks to Safety Consultant Charlie Bond for his input on this Navigator.