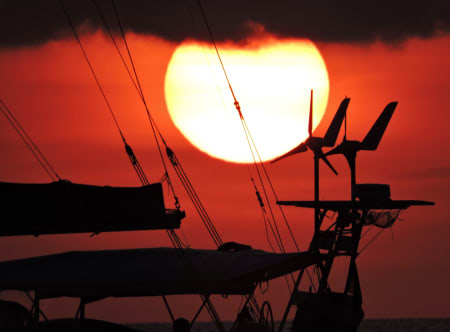 Every boater knows that redundancy onboard is a good idea – especially when it comes to keeping your batteries charged. With industry advancements, renewable energy options for onboard charging are not only vastly improved, but also becoming more affordable for boaters – so this Navigator will explore the pros and cons of adding Solar, Wind, Hydro or Fuel Cell technology to help you decide what makes the most sense on your boat.
Before You Start
The most important factor to help determine what will work best for you onboard is to determine what exactly are you trying to accomplish. Are you simply trying to keep your battery bank topped up without plugging in to shore power when not onboard? Or are you trying to offset normal power usage while cruising without relying on a genset or running your engine? Once you've determined what you're trying to do, you can figure out the number of amps you'll need to replace and which system (or combination of systems) will work best for that purpose.
Two additional aspects to consider are how you might install each system and what kind of weather conditions you're likely to experience where most of your cruising takes place. Installation limitations could easily make the decision for you – so think carefully about these things while doing your research.
By adding one (or more) alternative energy solutions onboard, you increase the reliability of your power supply while potentially realizing substantial savings by not burning fuel to recoup the energy lost – so it's worth exploring. With that in mind, let's look at the pros and cons of each of the best renewable energy option currently available for boats.