If you are new to boating, it's important that you have a good understanding of shore power since improper usage of AC power can be extremely dangerous. " Shore Power " is what you use when you plug your boat into the power source on the dock to transfer AC power to your boat. You do this to top up your batteries or to run any of the AC powered items on your boat. These could include a microwave, a hair dryer, power tools, a TV or even a toaster. In this Navigator we will explain how shore power works, some of the newer cord options available and several safety considerations when using it.
Shore Power Cords and Inlets
On your dock there should be a tower of sorts – known as the "power pedestal". This is where the marina has run an AC plug to which you can connect. Many marinas will have a connection rated at 30A with two female receptacles, along with some sort of hinged lid to protect them. There should also be a circuit breaker – which you will need to turn on when you are ready to use the power and should always turn off before unplugging your cord. The female receptacle may have a threaded ring, which when used, will ensure your plug is securely attached with a waterproof connection.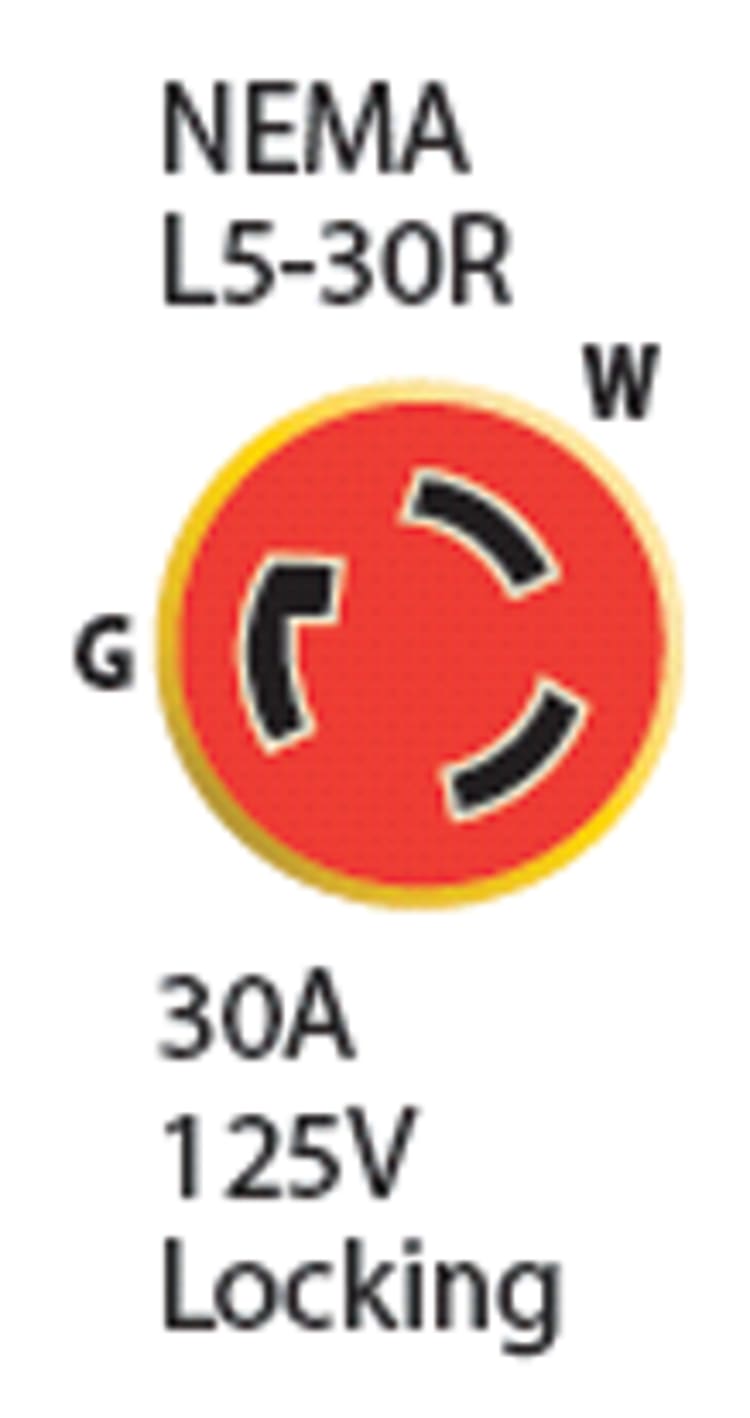 While marine cordsets come in a variety of lengths and configurations, it is most likely that you will have one that is yellow, 25-50 feet long, and rated for 30 amp service . On one end there will be a 3-pronged male connector – which plugs into the female receptacle we mentioned on the dock. On the other end is a female 3-pronged connector that will plug into the male outlet located somewhere on your boat. These connectors can only be plugged together in one way – ensuring that you cannot plug them together incorrectly. Once you push the two together, they need to be twisted slightly in a clockwise manner to fully secure the plug to the receptacle. NEVER force a plug together as it should fit easily and stay in place after twisting. If it doesn't – it is highly likely you are doing something wrong.
Many larger boats now come with 50 amp shore power systems, and many marinas now offer 50 amp service. 50 amp cordsets, which are rated either at 50A 125 V or 50A 125/250 V, deliver far more amperage than a 30 amp cord.

Adaptors that allow you to connect "mismatched" amperages are also available and smart to have on board as you won't always get your ideal slip choice. For example, these adaptors allow boats with 30 amp shore power systems to plug into a 50 amp dockside supply as well as allow boats with 50 amp shower power systems to connect to two 30 amp dockside receptacles. Lastly, if your boat is set up for 30A but that's not enough to run everything you need, it is possible to use TWO 30A cordsets as long as you have two inlet receptacles on your boat. Often boats that have installed air conditioning for use at the dock will need this extra cord.
New Technology
For years, the majority of these cordsets and inlets have been manufactured by companies like Hubbell and Marinco , whose technology had remained unchanged for many decades. But as the industry has become more safety conscious and boaters are becoming more educated, there has been pressure to develop systems that are easier to set up, that will not loosen or corrode over long periods, and have higher resistance to harsh marine environments.
One of the biggest causes of boat fires is older shore power cords plugged into AC power for months – maybe even years – without being inspected by the boat owner. Since your boat is always moving it's important to check your cord regularly – making sure it is still properly connected and hasn't become so tight as to act as an additional dock line (not good!). Even when set up correctly, it's still possible that with age and UV damage, water could intrude into the connection causing the prongs of your plug to corrode. Eventually, this creates a poor connection – which leads to potential overheating and possibly even arcing – scary stuff when dealing with 120 volts of power! That's why it's critical that you inspect your connections (both on the boat and at the dock) to make sure this kind of corrosion isn't happening.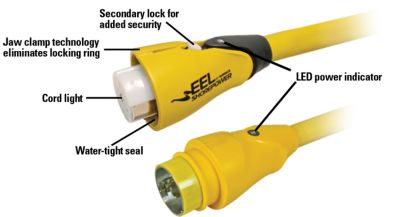 The good news is there are now two new systems that have been developed to combat these issues – the EEL System (developed by Marinco) and the SmartPlug (developed by SmartPlug Systems). These new designs incorporate better connections, an improved locking system and increased water resistance with exposure to the elements.
EEL (Easily Engaged Lock) System – this new system from Marinco does away with the old threaded sealing ring – replacing it instead with a one-handed locking system. It has a jaw clamp design providing a secure waterproof seal, along with an integral LED to help you plug it in when you come in after dark. The EEL also incorporates a secondary finger-activated lock for added security – and when engaged, the jaws cannot be unclamped. It uses heavy-duty, super flexible, tinned 10 gauge corrosion resistant 3-conductor cable with nickel-plated contacts and there is a built-in LED power indicator to show you the cord is active and power is flowing – so much better than their old design!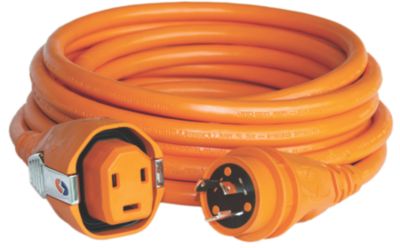 SmartPlug – this innovative new company decided to start from scratch with a completely new design. The SmartPlug employs locks on both sides of the connector that snap into the inlet so you can both feel and hear the positive connection being made; no twisting required. To release, simply squeeze the two side levers. The connector and inlet bodies nest together so aligning the pins is a snap and since there is only one plug-in orientation, it's intuitive to use – even in the dark. The molded plug has three weatherproof seals, which eliminate the possibility of water and moisture intrusion, ensuring a safe and dry connection.
Like the EEL – the SmartPlug also uses heavy-duty, flexible 10-gauge , 3-conductor cable with nickel-plated contacts. In addition, it has very large contact pins and a built in thermostat. Why's that important? Larger contact pins mean a larger area creating the connection, so less chance for poor contact – which is one of the leading causes of overheating. In addition, if for some reason the plug does start to heat up, the trip-style thermostat will sense it and shut off the connection – keeping your boat safe from overheating. Seriously cool, right? While converting to SmartPlug will require you to switch out the old style receptacle on your boat, they've made sure to size it as a direct replacement – so it's relatively easy to do and well worth the added safety it brings.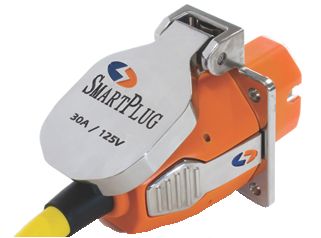 Both the EEL and the SmartPlug have a regular connection dockside, so you will be able to use these products no matter what marina you are in. We highly recommend either of these products as a valuable safety upgrade for your boat.
Safety Considerations
As we've outlined, shore power can potentially be extremely dangerous if your cord or inlet fails due to improper maintenance – so here's some tips to keep your boat safe.
Whenever you disconnect your cord from the boat, examine both the end of the cord and the inlet. If there is any discoloration at all, or any evidence of melting around the male blades of the plug or the slots of the female end it is critical that you replace the damaged portion before plugging back in.
Perform the same inspection dockside. If there is any problem, immediately contact your marina management to have it fixed – do not plug back in until it has been fixed!
If you leave the boat plugged in unmonitored for long periods of time – make a plan to stop by once a month and perform the checks above. It's always a good idea to check on your boat regularly anyway!
At least once a year, check the back of the boat inlet to make sure the wires are still properly connected and that there is no corrosion that might cause overheating. If it's not easy to see from inside the boat, simply unscrew the inlet and remove it to check it from the outside.
Regularly check the blades of your plug for any signs of corrosion – especially if you've ever accidently dropped it in the salt water. Blade corrosion can easily cause a poor electrical connection, leading to overheating or even fire.
If you do accidently drop your cord in the salt water, immediately turn off the breaker at the power pedestal, disconnect the plugs and rinse everything thoroughly with fresh water. Marinco recommends you dry it off and then give it several days to make sure it's completely dry before using it again. Remember to check for corrosion after a few months to be extra safe.
Finally – make sure you run your shore power cord in such a way as to allow free movement during tidal swings or higher winds, while not allowing it to get trapped between a nearby piling and the moving dock (a classic rookie mistake!). You need enough slack in the cord so that it doesn't inadvertently become a dock line! A tight cord puts undue tension on your connection at either end, which can easily lead to overheating – so take the time to get this right!
We hope you've enjoyed this Navigator and understand the importance of maintaining and inspecting your shore power equipment – but if you have any additional questions, please feel free to contact our product experts at (800) 426-6930.