Complete Peace of Mind
How many times have we been at anchor when the wind turns or blows harder than expected – and we find ourselves praying that our anchor will hold fast? Every boater wants the peace of mind that their anchor is going to keep them safe while they sleep – even if the weather changes dramatically.
After cruising for over 100,000 nautical miles, a New Zealand cruiser named Peter Smith felt sure he could build a better anchor than the options available – and he set out to prove it. Released in 2004, after years of testing and tweaking, the result was the Rocna anchor – the best multi-purpose anchor on the market.
What makes it work?
The biggest change Peter made from old-style anchors was the addition of a roll-bar, which helps the anchor turn over – positioning itself into the proper setting angle as soon as it hits the seabed. The Rocna also has setting skids (which keep it in the proper position while it's setting) and a sharp, chisel-like tip that cuts into the seabed burying the anchor quickly and efficiently. In addition, a concave fluke gives the greatest holding power to secure your boat – even with a 360 degree wind shift – no matter what the seabed consists of. Lastly, the steel shank is designed so that the anchor self-launches and self-stows on the majority of bow-rollers.
Independent tests by publications such as Cruising World, Practical Sailor, and SAIL have all shown that this new-generation Rocna anchor consistently outperforms more traditional anchor designs in a variety of seabeds.
Striving for perfection – the Vulcan
While Rocna anchors have developed a near cult following with their users, there were still some boats that had difficulties accommodating the roll-bar design on their bow – particularly powerboats with a bow pulpit. So Peter got back to work on a new design, released in the beginning of 2015 – the Vulcan anchor - available in both stainless or galvanized. This new anchor capitalizes on already finely tuned design elements, infusing many of its elder sibling's proven performance advantages, while featuring a unique new combination of shank and fluke geometry. The biggest difference is what they call the roll-palm™ at the rear of the fluke. This feature allows the Vulcan anchor to self-right on the seabed without the use of a roll-bar. This is assisted by the V-bulb™ which extends the fluke ballast downward to gain maximum leverage and efficiency – that directly equates to more holding power and security.
The omission of a roll-bar along with a carefully designed shank profile allows for a snug fit on the bows of a widely expanded range of vessels. In addition to the use of high-tensile steel, shank strength is optimized by a unique I+V profile™ shank design, granting improved resistance to bending courtesy of a computer optimized I-beam geometry. This not only makes the shank stronger, it also improves setting performance with a lower V edge, which cuts into the seabed and minimizes resistance to a deep and secure burial. To top it off, the new design still encourages self-launching and self-stowing upon retrieval on the majority of bow rollers – making life easier for boaters everywhere.
The theory is great – but does it really work?
While we have quite a few employees that love to rave about their Rocna – one of them has definitely put it to the test. She and her husband are currently out cruising, having left in the fall of 2012 to circumnavigate. While home recently for a visit – she raved about how happy they were with their Rocna and told us the following story…
While we have more stories than I'd like of when the Rocna has saved our bacon, the most recent one happened last October. We anchored in a great little bay in Fiji, but unfortunately the winds turned overnight – which meant the anchorage was completely exposed to both the wind and the open seas. As the night progressed, the wind began to build and it was soon blowing 20-25 knots – directly into the anchorage. The chop also began to build, and by about 4:30 AM we were experiencing 4-6 foot waves in the anchorage. The boat was hobby-horsing like mad – we knew we had to get out of there – but we had to wait until there was enough light to navigate as Fiji (while beautiful) is poorly charted and has reefs everywhere.

To make matters worse, we were anchored just off a reef – so if we dragged, we would be in big trouble. For the next two hours the bow of the boat was crashing up and down in the waves – 4 feet out of the water one second and 2 feet below the water the next – it was complete madness. Finally, it was light enough out to raise anchor and move. Not only did our trusty Rocna hold us through an incredibly rough night – it also released easily just when we need it too. We've been cruising now for three years, and I will not trust my boat to any other anchor. I highly recommend a Rocna anchor to anyone that plans to spend time on the hook in their boat."
Okay – I'm convinced – but will it fit my boat?
If you need help figuring out which model will best fit your boat – check out some of the cool tools provided at the Rocna website – including anchor dimensions for each size, patterns you can print out and assemble to create a full scale mockup to make sure it will fit your boat, or there is even a multitude of "boat fit cases" with photos and other information at the "Rocna Knowledge Base" that you can peruse for similar situations to your own.
Sizing Your Rocna Anchor
There's a Rocna or Vulcan anchor to suit just about any vessel. To choose the correctly sized anchor, find your vessel's length from column on the left, then track across that row until you find the first column with a displacement (in tonnes) the same or larger than the displacement of your vessel. Once selected, follow the column to the top where the recommended Rocna or Vulcan anchor is indicated. For reference: 1 t (metric tonne) = 1,000 kg = 2205 lbs and 1 meter = 3.28 feet. The rows at the bottom of the chart give equivalent anchor weights in pounds and kilograms, recommended chain sizes, and fluke areas.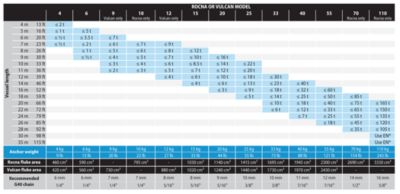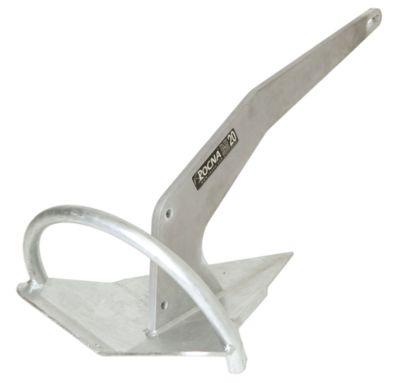 If your boat's weight falls in between two columns, it's best to give preference to the larger anchor model. In addition, a relatively high displacement or high windage vessel should consider choosing a larger anchor, while a smaller anchor may be more appropriate for especially light displacement boats. While this sizing may seem a bit conservative, Rocna's recommendations are intended to provide an anchor adequate for use in even the toughest conditions. Calculations are based on 50 knots of wind, associated surge, and soft, moderate holding bottom conditions into which the anchor has set. For multi-hulls: use the chart as instructed, then select the model one size larger.
So if you want to sleep like a baby, even when it's blowing like stink outside – a properly sized Rocna will provide holding power in excess of what most manufacturers recommend in a wide variety of conditions. Still not convinced? Just walk down the dock until you find a boat with a Rocna on the bow and ask they owner if they are happy they bought it. You'll be sure to get an ear full of how the Rocna has helped them sleep peacefully at anchor.
We hope this Navigator has helped you decide if a Rocna or Vulcan anchor is right for your boat, but if you need further assistance, please don't hesitate to contact our product experts at (800) 426-6930.